Zip +4 Centroids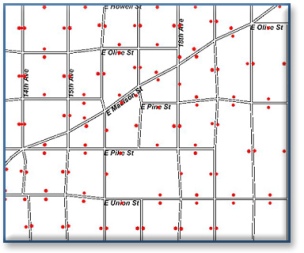 Click for Larger View
A unique feature of our ZIP+4 Centroid Files is that each ZIP+4 location is offset from the street approximately 30 feet to provide additional realism to their actual location. This subtle enhancement, not found in any other ZIP+4 Centroid File, produces greater accuracy and thereby improving analysis.
Overview
Our ZIP+4 Centroid Files combine the latest information from the current TIGER/Line™ files, the U.S. Postal Service's latest AMS-II files, U.S. Geological Service survey data and our own proprietary data.
In addition, our centroids are offset approximately 30 feet from the street segment on the proper side of the street. These offset centroids clearly separate the ZIP+4 Centroids on facing blocks, thus contributing to more accurate and useful ZIP+4 Centroid locations.
The use of our ZIP+4 Centroid File adds a new level of precision to sales and marketing applications based on individual mailing addresses .
quickly geocode a mailing list
code the location of addresses within other geographic zones such as Census Tracts
precisely define the postal codes within a specific distance from a store location
calculate the distance between specific addresses
Geography Levels
Available by State, Region, or the entire U.S.
Update Schedule
Available with Monthly, Quarterly, or Semi-Annual updates. Remember, we can create the most current, custom .pdf or hard copy maps for you!
For pricing, detailed file layouts, or questions, contact us