SDS Street Maps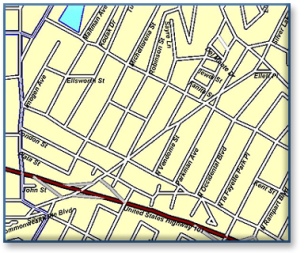 click to enlarge
SammData is the first to offer the latest & most accurate update to the USGS TIGER/Line™ Street File.
Overview
Our latest SammData Street Files include:
All TIGER/Line™ Segments (i.e. Streets, Highway, Water, etc.)
Name/Address Databases
County Polygons
Census Tract Polygons
Block Group Polygons
City Polygons
MCD Polygons
Urbanized Area Polygons
TAZ Polygons
Landmark Locations
Water Polygons
Key Geographic Locations (malls, airports, etc . . .)
This street file is ready for use with desktop mapping such as GeoSight, MapInfo, ArcInfo/ArcView, and other GIS systems.
Geography Levels
Available by State, Region, or the entire U.S.
For pricing, detailed file layouts, or questions, contact us