Target Demographic Maps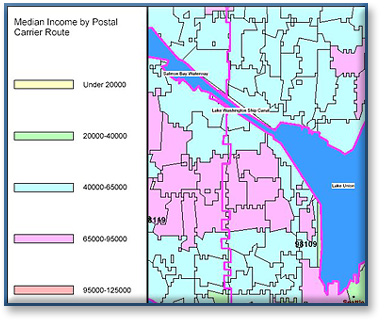 click to enlarge
The use of the direct mail database adds a new level of precision to sales and marketing applications based on your individual needs.
This extremely accurate and detailed file is ready for use with most desktop mapping systems, including GeoSight, MapInfo, and ArcInfo/Arcview.
Refine and enhance your target marketing efforts with demographic variables custom built to our unique & accurate Postal Carrier Route Boundaries.
Overview
Sammamish Data Systems has prepared a file, with over 20 of the most relevant direct mail demographic fields summed up to the carrier route level. Unlike other carrier route databases, this data is generated precisely to our highly detailed Carrier Route Polygons.
The data fields are estimates and projections from the 2000 census or derived from the USPS delivery statistics.
Quickly model carrier routes for your mailing programs
Compare demographics to your mailing returns
Precisely define the postal codes within a specific distance from a store location
Geography Levels
Available by State, Region, or the entire U.S.
For pricing, detailed file layouts, or questions, contact us