Carrier Route Polygon Files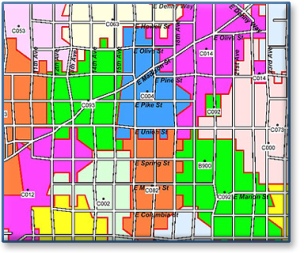 click to enlarge
This is the best file in the marketplace and a must for target marketers due to sheer accuracy. We split Census Blocks to create boundaries that best reflect the true geography covered by individual mail carriers!
And – we can custom build a customer database to our Carrier Routes!
Overview
Sammamish Data Systems Inc. has created extremely accurate, up-to-date and detailed postal carrier route boundaries. This new polygon file combines the latest information from the current TIGER/Line™ files, the Postal Service's latest AMS II files, the Geological Survey, and proprietary data.
A unique feature of our carrier route polygons is that each ZIP + 4 location is offset from the street approximately 30 feet to provide additional realism to their locations. This subtle enhancement of our file gives you a perfect tool for completing a very detailed mailing of any area.
This extremely accurate and detailed file is ready for use with most desktop mapping systems, including GeoSight, MapInfo, and ArcInfo/ArcView.
Our Carrier Route Centroid file includes:
A centroid database to display all polygon center points with corresponding route number.
A postal count file containing total addresses, homes, apts, PO Boxes, and businesses.
Geography Levels
Available by State, Region, or the entire U.S.
Update Schedule
Available with Monthly, Quarterly, or Semi-Annual updates - remember we can create the most current, custom .pdf or hard copy maps for you!
For pricing, detailed file layouts, or questions, contact us